Social Distancing Signs
With offices, businesses, schools, restaurants & hotels re-opening amidst the COVID19 pandemic, Social Distancing Signs & Sneeze Guards have become a necessity. Protect your employees and customers with the right type of signs for your facility. At Sign Partners we offer a wide variety of permanent and temporary signs, for different industries. Social Distancing Signs can be made with your own design or our team of in-house designers can assist with a custom design, following your brand standards for all your Social Distancing Signs.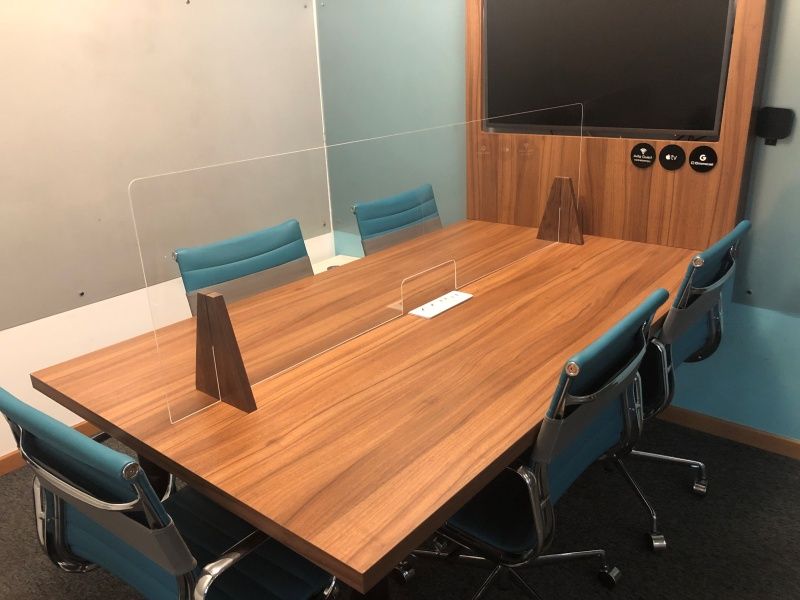 Benefits of Social Distancing Signs
Social Distancing has become important to keep ourselves and others safe and minimize the spread of the COVID19 virus. One of the main benefits of implementing Social Distancing Signs is that they provide a constant reminder of the need of Social Distancing. In our busy lives and when we are in unfamiliar areas it's easy to loose focus and unintentionally forget about the importance of social distancing. In addition to it being a reminder, it also provides an assurance towards your employees of the importance of keeping a safe working environment.
Sneeze Guards & Partition Walls
Sneeze Guards or Partition Walls are a must-have in all areas where people are interacting face to face. Think about check-out counters, hotel receptions, open office works spaces, food & store counters, banks, doctor's offices and many more. Sneeze Guards are already regulated in certain types of establishments and help employees & customers from airborne bacteria and germs spread through sneezing or coughing.
Sneeze Guards are available in different varieties and a few things to consider include: size, shape & material. Most Sneeze Guards are made from acrylic which is highly transparent and doesn't scratch that easily.
Types of Social Distancing Signs
-        Floor Decals
These are perfect to indicate walking directions in public areas, walkways and stair cases. Floor Decals are also a good tool to indicate the 6FT distancing rule in busy areas or waiting lines. Floor Decals are made from self-adhesive vinyl and are easily installed indoor as well as outdoor, on tile, carpet, laminate, hardwood, sealed concrete and any other non-peruse surface. Floor Decals are available with a laminate that is anti-slip and durable for high traffic areas.
-        Retractable Banners
Retractable Banners are a good option to display large messages in public areas. For example in a hotel lobby, school cafeteria or a waiting room. The advantage of a Retractable Banner is that they are lightweight so they can easily be moved to different areas.
-        A-Frame Signs
In terms of displaying a message, A-Frame Signs are very similar to Retractable Banner Stands, but they have some other advantages. One difference is, is that they are double sided, so you can display multiple messages. Furthermore they are very sturdy and can be used outdoor in windy conditions. Lastly, A-Frame Signs come with inserts so it gives more flexibility to change your message or usage at a later stage.
-        Window & Wall Graphics
Window & Wall Graphics are extremely versatile as a Social Distancing Sign. They can be used in bathrooms to explain hand washing rules, clarify adjusted opening hours, reminding visitors to wear a face mask, indicate limited room capacity and so on. Window & Wall Graphics can be produced with a temporary or permanent adhesive, depending on your requirements.
-        Wall Signs
The options for wall signs are limitless and available for any type of budget. Wall signs are available in different type of materials, like posters, PVC, Acrylic or even aluminum. Depending on  your budget and the type of usage for short term, long term, indoor or outdoor, we can recommend the right type and size of Wall Sign.
---
The above list includes just a few examples of the type of Social Distancing Signs that Sign Partners has to offer. Don't hesitate to contact us for personal advice on Social Distancing Signs & Sneeze Guards for your facility, to keep your employees and customers safe.
Get a Free Quote or call 561-270-6919!