Wall Graphics and Wall Wraps can change behavior at the workplace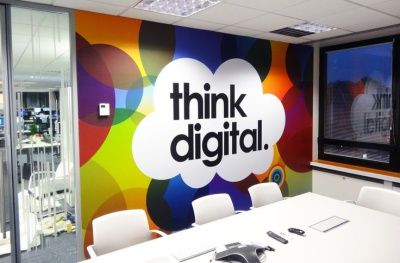 Wall graphics and wall wraps go a long way in making a profound perception about what culture and values your organization represent, since wall murals are a core to visual communication, they can also be effective for passing across any message especially useful as well for branding. Food images for instance in a cafeteria will send a message to the psychology of customers.
Color Psychology
Color has an amazing effect on temperature and perspective, mere looking at a wall a person's perception towards temperature can change. Colors such as orange, yellow and red which are all warm colors can make your perceived cold temperature feel warm, also colors such as green, light purple and blue makes it looks more cool. For Business located at warm regions, color psychology can make workers feel the environment is cool if cool colors are used on the walls.
Emotional responses can be triggered by colors for some people, but on a general scale colors are helpful to staying calm and collected. Green for instance can help creativity and expand thought pattern. It also helps to connect with nature easily.
An environment that requires more of analytical thinking should stay away from red colors. Red has a psychological effect which can make you react faster and forceful than expected. For task oriented assignment red is a NO. Although for attraction it plays an active role.
Think of what happens when you can successfully combine color psychology with diverse images you can think of, in a special way you will boost your employee effectiveness at work.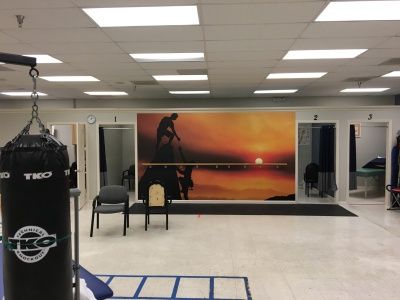 Benefits of Wall Graphics
Aside the fact that wall graphics are welcoming, it promotes impulse purchasing a lot of time and consequently gives your employee a drive and a special kind of team work spirit and unity. They feel bonded when they are at work, it feels different for them always.
For employees to enjoy coming to work, wall wraps, office signs, interior signs, wall decays and vinyl graphics should really be treated as priority for firms and organizations. Sculptures that are abstract in nature inspires employees.
Spaces that are beautiful do make people happy, that's why Wall arts are one of the easiest way to introduce color and visually interest employees at work. Interior signs and art works on the walls stimulates employees productivity.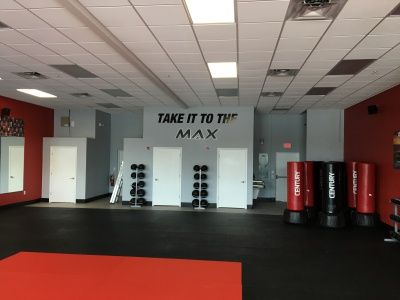 So it's purely advisable to provide employees with a visually stimulating and unconventional work place, its surely in the employer's best interest. A chunk of the stress that comes along maintaining high productivity levels will edge down once employees believe effort has been fairly made to afford them with a pleasant work experience. However, some employers tend to be very cost effective and may want to consider how alteration at the office will be a reasonable return on investment . But for some others, simple adjustment like providing employees with additional task lighting, ergonomic furnishings and an updated space in terms of decor could make a reasonable change.
Are you convinced to add some wall wraps and graphics for your company? Contact Sign Partners today and our experts will visit you for a free consultation. Sign Partners can be reached via 561.270.6919 or info@sign-partners.com