Vehicle Wrap Fleet in Boca Raton FL, for Bite Squad
Using vehicle advertising offers a great advantage especially for local companies. If you have several vehicles on the road for your company it would be a loss not to use them as advertising. A unique but clean look will help you to stand out from the competition with a vehicle wrap or graphics.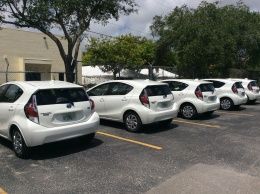 Vehicle Wrap Project 
Last week we completed a project for Bite Squad who opened a new location in Miami. Bite Squad is a food delivery company who works together with local restaurants. They have first opened in Minneapolis / St. Paul and are meanwhile represented in Seattle, Las Vegas, Austin and now Miami.
Since Bite Squad is constantly on the road to deliver their services it's a logical step to use their fleet of cars for vehicle advertising. Their logo has a clean design with two color's only which is translated into the design of the vehicle wrap. The vehicle wrap design is the same in all locations and therefore the design was ready to go.
Sign Partners received the brand new vehicles directly from the dealer. After receiving the vehicles we had exactly 5 days to wrap all 5 vehicles, Toyota Prius C. In addition to wrapping the vehicles we installed window tinting on all vehicles as well. This is a crucial part in sunny Florida in order to make the vehicles ready for the road.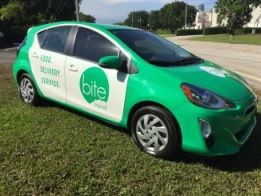 Interested in a Vehicle Wrap?
Do you have a vehicle fleet for your company? Don't think again and contact us today at Sign Partners for a free estimate. With our experienced team we will guide you through the process starting with a unique design until professional installation.
You can call us at (561) 2706919 or e-mail us at info@sign-partners.com.