Upgraded directional and wayfinding signage for NCCI In Boca Raton
The National Council on Compensation Insurance (NCCI) is the country's most experienced provider of work men's compensation tools, information, and services. Located in Boca Raton, the corporate office for NCCI is an imposing structure that is befitting of the work carried out by the organization. However, the existing directional signage was in need of an upgrade.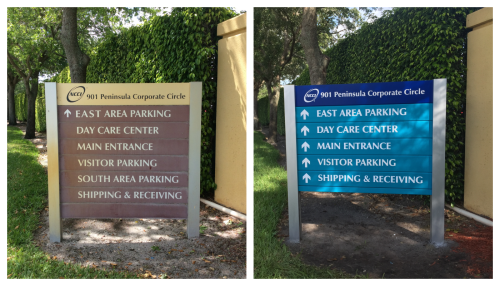 The NCCI Directional Signage Upgrade 
As experts in wayfinding signs and directional signage, Sign Partners work with business owners and property managers in South Florida to offer a wide range of post & panel sign replacements and upgrades. Sign Partners undertook this upgrade and combined an elegant design with ease of use. Because they are experienced in directional and wayfinding solutions, this upgrade was carried out without fuss. 
First the NCCI directional signage needed to be upgraded since the colors were faded and dirty. Apart from this, the directions were not up to date anymore and needed to be changed. Directional and wayfinding signs are used to coordinate traffic flow, and signage that isn't up to date cannot guide customers or vendors to the proper locations. So the NCCI sign had to be updated with the correct information.
Manufacturing & Installation Process
After inspecting the existing directional and wayfinding signs, it was discovered that the signposts were in good condition, and only the inserts needed to be changed. Sign Partners wanted to make sure that the original signposts could be re-used, so they opted for a similar insert system.
The new directional signage panels were made from a durable aluminum and are powder coated with anti-rust material for extra-long durability. Now, the blue colors of the new signs are inspired by the company colors of the NCCI brand- boosting the brand even further. The directional wording applied in white cut vinyl is long lasting and can be easily changed if necessary.
During the installation, the old panels were removed, and the existing posts were painted in a fresh silver color. The new directional panels were inserted on the same day in order to make sure that nobody got lost. Now all directional and wayfinding signs are up to date and give a fresh new look to enhance the arrival experience of all employees, clients, and vendors.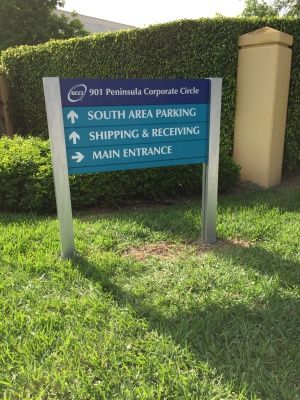 The job was done expertly by Sign Partners, and NCCI's post & panel signs are now all up to date- complementing the fresh and professional look of the building structure. Directional signage and wayfinding signs are important and informative signs, which is most times overlooked by companies. Informative signs are the first level assistance that you provide your customers and clients, promising them a pleasant experience while in your company or retail establishment. This can improve your good faith and encourage repeat customers.
To learn more about directional and wayfinding signs have a look at our dedicated product page or contact us at 561.270.6919 / info@sign-partners.com