Social Distancing Signs in preparation to re-open schools after COVID-19 in Boca Raton, FL
Slowly, schools have started re-opening with several measures getting put in place for safety of students and teachers. Apart from wearing masks and using sanitizers, a range of social distancing signs and sneeze guards are available specifically for the school environment. This article discusses the several customizable sneeze guards and social distancing signage that you can purchase to help create awareness while re-opening of schools continuous amid the COVID-19 pandemic globally.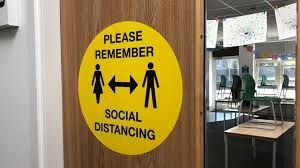 Categories of the different necessary signage
All our social distancing signs are customized and designed for different school types and age groups. Graphics for pre-kindergarten and kindergarten get to be user-friendly and easy-to-understand with several illustrations. Elementary and middle school students get signages paired with simple messages with clear images, and they get to have multiple languages, sizes, and finishes.  High school and beyond student signs feature clear visual cues and directions to maintain social distancing, the latest health, and safety information on the pandemic and the foot traffic. The necessary signage is ideal for classrooms, cafeterias, lecture halls, student union and gathering spots, restrooms, recreation areas, administrative offices, hallways and the gymnasiums.
1.     Sneeze Guards & Partition Walls
One of the most effective tools to stop the spread of the virus are Sneeze Guards & Partition Walls. In schools they can be used around the teachers desks, offices, cafeteria and many more. Sneeze Guards are made from clear acrylic that is not sharp or breakable so it's safe to be used in an environment with children.
2.     Floor Decals
Floor Decals are considered to be the best way to convey messages in busy public areas. The essential tool displays different measures to enable the students to avoid the spread of the virus in one way or another. Floor graphics are the most effective way to remind students to maintain social distancing and follow the 6FT rule. Floor Decals can be displayed at the hallways and staircase of the school. The floor graphics get laminated to prevent being spoilt easily in high traffic areas.
3.     Restroom & Hygiene signs
Many things have changed since the pandemic started. One of the most important things that have now been implemented frequently is washing hands often, sanitization of all touchpoints, coughing into a tissue, and the correct disposal of PPES. Putting up hygiene signs to ensure students, staff, and teachers in the school will help adhere to the practices. Restroom & Hygiene Signs come in different forms and can be made in the form of banners, posters or decals, whatever works best for your school.
4.     Building Access Banner stands
Banner stands are for indoor use & temporary outdoor use and can get placed at the school entrance. They can serve as a generic reminder on how to work together to stop the spread of the virus. Banner stands are available with customized messages, tailored to your needs. The lightweight banner stands can easily get moved around in different areas, depending on where they are needed.
5.     Vinyl Banners
At the front of the school, a vinyl banner can be used to display measures to be taken to avoid the spread of Coronavirus. Washing hands, wearing masks and following social distancing rule by 6FT will attract the eyes of the students when they arrive at school. The PVC banners can be fixed at the fence and walls with positive messages to students while reinforcing COVID-19 messages.
All these types of signs are examples on how you can help to keep your students & teachers safe during this pandemic. All our signs are custom and can be tailored towards your exact needs. Our sign expert are available to visit your school and provide a detailed proposal on recommended signage. Contact us today via phone 561.270.6919 or email info@sign-partners.com