Restaurant Signs and Promotional Signs for Papalani Gelato in Delray Beach
No matter what type of restaurant you are operating, you want to make sure that your customers are able to find you. With the help of our experts and graphic designers we create a detailed restaurant signage plan for both indoor and outdoor. Your design criteria, as well as the building criteria will be taken into consideration in order to communicate the right message to your customers.
We recently assisted Papalani Gelato in Delray beach to prepare for their Grand Opening. Papalani Gelato offers the most exotic gelato's with unique flavors from Hawaii. However they have much more to offer apart from their delicious ice cream, so do not hesitate to try their rich coffee, crisp Belgian waffles topped with tropical fruits, and fresh-baked pastries.
Sign Partners services are not limited to business signs only as we offer everything from interior & exterior signage, to vehicle wraps, banners, posters or any printed material.  We worked together with Papalani Gelato on different aspects of their signage needs.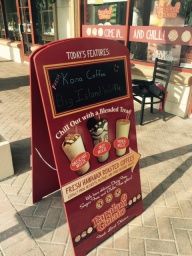 A-Frame Sign
An A-Frame sign is a perfect way to attract attention from your potential customers on the walk way. For Papalani Gelato we included a chalk board on the A-Frame allowing to highlight daily promotions.
Window Decals
Window decals & graphics can be used as a design aspect as well as communicating information.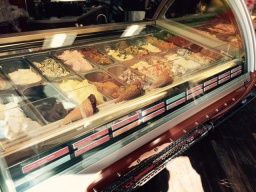 Ice-cream flavors
This one you most probably didn't expect as part of a sign project. However we are excited to do any project to help you communicate information or graphics. All ice cream signs are made out of acrylic and easily replaceable if the flavor changes.
Refrigerator Wrap
Unfortunately refrigerators are not the most prettiest part of your interior design however unavoidable in any type of restaurant. Therefore a vinyl wrap is a great way to enhance the design.
Do not hesitate to contact us and we will create a comprehensive plan to promote your restaurant and services. Alternative product solutions can be Illuminated Signs, Directional Signs, Flags, Wall Decals & Murals, Monument Signs, Custom Banners, Posters and much more.
Contact us today for a free consultation or estimate via info@sign-partners.com or call us at (561) 270 6919.