Monument Sign and Dimensional Building Sign For Red Reef Park In Boca Raton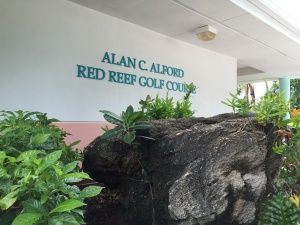 Although the era of the internet is well established, there is still a need for physical marketing to be done for small and large businesses. Signage on a building is an important facet of status display and identification. Clients and drive-by customers as well as people simply needing to identify a building, all need a clear and well done sign with style. The best signs also communicate a message or theme.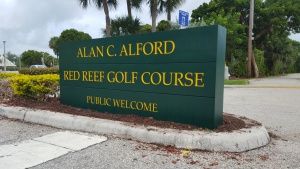 Red Reef Park in Boca Raton
Along the coast of Boca Raton sits the beautiful Red Reef Park. Sign Partners was asked by the city of Boca Raton to provide two signs for facilities housed there as part of their re dedication of the park's name.
The park is a 67 acre ocean-front setting with a nine hole golf course. It also houses the 20 acre Gumbo Limbo Environmental Complex, a nature center maintained by the city. Its purpose is to educate and conserve in association with researchers.
The park's executive golf course is a nine hole course with perfectly kept greens and a spectacular view of the ocean, particularly from their elevated tees. It's a popular spot, especially good for a quick game of golf and located between the Atlantic Ocean and the Intercoastal Waterway.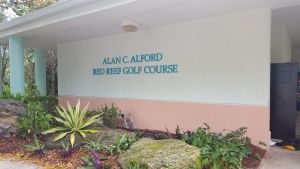 Monument Sign & Building Sign
Red Reef Park needed two types of signage done. One was a replacement monument sign and the other, a new building sign for the golf course. The city is renaming the course the Alan C. Alford Red Reef Golf Course and they selected Sign Partners for the project.
The city of Boca Raton maintains color standards of green and yellow for all park signs. Sign Partners was required to obtain approval on their colors before making the signage and then made the replacement according to the city's specs. The existing monument sign was replaced with one of High Density Urethane (HDU) specially made for outdoor high durability.
HDU is the gold standard for standing up to weather conditions and can be etched, molded or otherwise mechanically decorated. The lettering on the sign made by Sign Partners is routed into the material it is made of. This is a deep but fine carving method that will last without blurring.
The building on the grounds needed a brand new wall sign. For this, Sign Partners created colors more in line with the theme of ocean life, in aqua blue. Letters are made of cut aluminum, painted in aqua blue, against a light background. It emulates the look of the sea perfectly and suits a building on a site along the ocean.
Sign Partners produced both signs for the city using their own custom designs. Every business that has need of a physical location should be aware of material marketing opportunities, primary among them, a sign. 
Go check out the new Alan C Alford Golf Course to check out their new signs. Let us know if you are in need of a new signs and Sign Partners' specialists will be excited to work with you. Contact us via 561.270.6919 or info@sign-partners.com for a free consultation info@sign-partners.com