Interior Office & Lobby Signs for Brijot in Boca Raton, FL
Interior signs in an office facility can serve several purposes. One that most people have in mind is based on practicality and that's when ADA and directional signage's become necessary. Another aspect can be to create a comfortable working environment for your employees by having a decorative purpose to your signage requirements.
Branding Solutions
In this blog article we will emphasize on your company branding through signage which is especially important when welcoming customers or clients to your facility.  Recently we have worked together with Brijot for a new lobby sign and dry-erase board in their new facility in Boca Raton.
Our customer
Brijot® is the global leader for non-invasive, safe people screening systems for detecting concealed objects under clothing to protect people, property, and privacy. Brijot systems aid in security efforts by providing weapons and contraband detection for airports, military branches, and government and law enforcement agencies.
Concept Creation

Concept creation is very important, prior to starting a project like this. Brijot has an existing logo which works very well for this project. After a site inspection to their facility and learning more about the lay-out and furniture we proposed several ideas for a lobby sign.
Based on a detailed presentation and design proof we agreed together on the best solution for their facility. Above is a visual of the design proof, presented to our customer.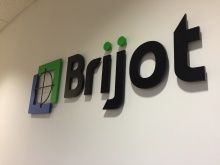 Lobby Sign
The lobby sign for Brijot is installed in their lobby next to the reception counter. The sign is made out of ½" thick acrylic and custom painted. The installation is ½" pin mounted which creates a beautiful shadow on the wall.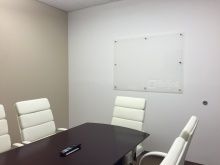 Dry-Erase Board
For the meeting room we have design a custom dry-erase board. The dry-erase board is made out of ¼" thick clear acrylic panel. Compared to glass this is much more convenient to work with since it's lighter, easier to transport and less fragile.
On the back we applied a frosted vinyl with the Brijot logo cut out for a unique custom look. The panel is installed on the wall with ¾" aluminum stand-offs to create extra depth.
Contact us today for a free consultation for your office signage needs. You can call (561) 270-6919 or e-mail at info@sign-parters.com