Interior and Exterior Signs for OGK Creative Marketing Company in Delray Beach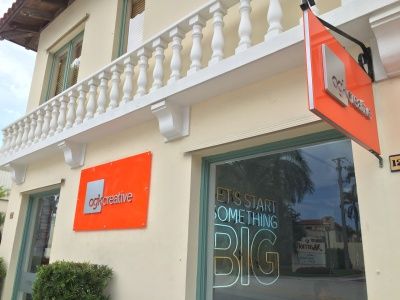 For any business owner, branding is key to building a business. Imagine how recognizable some of the largest businesses are today. When a consumer sees their logo or signage they immediately know the name of the business, what they do and what level of service to expect.
As you build your business, be aware of how important branding really is. One company that did it the right way was OGK Creative in Delray Beach. The company fortunately was expanding; expanding in fact, too quickly for their old location. The owners decided that a move nearby to the beach at East Atlantic Avenue was the opportune choice.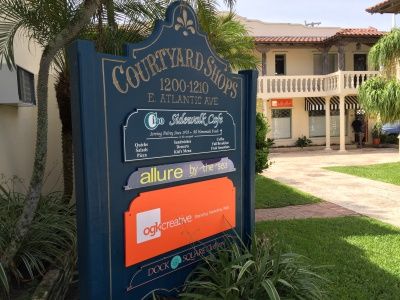 The pros were: 1) they were already known, 2) they were affiliated with offering great signage and branding options for their clients and 3) they already had a loyal following. The cons were: 1) they needed signs to brand their new location. An easy task for Sign Partners!
What the owners of OGK Creative were well aware of, was the importance of signage to convey a message to the potential consumer. They needed it to be:
1)         Cohesive and work together as a whole;
2)         Targeted to the market they sought;
3)         Eye-catching and effective with high visual appeal; 
4)         Distinguish them from competitors;
5)         Convey their individualized message reflecting their business model.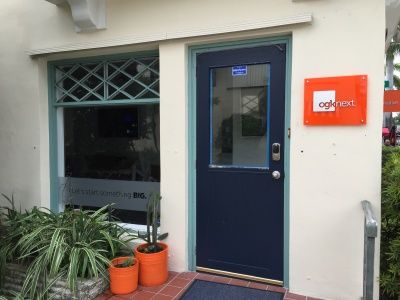 As a conclusion, the solution was to properly brand the area with their name, logo and mission on signage. They used a combination of outdoor signs, wall signs, hanging signs, window graphics and interior signs to bring their entire message together. What they knew all too well was that their customers benefited not from a few signs, but rather a marketing message completely developed and rolled out as one cohesive unit.
For example, they used exterior building signs made for durability and attractiveness. They used acrylic panels with dimensional lettering. Each letter was brushed aluminum laminate to stand out and announce their location on Atlantic Avenue. They also used window graphics to reinforce their arrival to the area and what they were all about. These letters were created with frosted vinyl with a goal of being elegant and professional as their branded window dressings.
A monument sign was located in their new plaza. To weather the elements, it was created out of a ½-inch thick PVC and custom cut vinyl graphics. By combining outdoor signs, window signs and monument signs, they were able to let the community know that a new player was available.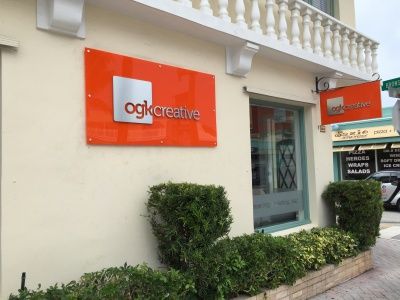 OGK Creative didn't stop there. They also carried their branding message to the inside of the establishment. This was to ensure that visitors were aware of their identifying visual characteristics even when they were already inside. A combination of wall graphics and interior signs were used and installed in the building for reinforcement of their message.
Overall, creating a marketing and branding plan using building signs—both indoor and out—was an effective way to bet the OGK Creative message across. It also let the community know that OGK Creative was expanding and ready to help other business develop and grow their brands.
If you are expanding or moving your company, contact our experts at Sign Partners today for a free consultation and proposal. Sign Partners can be reached via 561.270.6919 or info@sign-partners.com