Custom PVC Street Signs for Rhapsody Community in West Broward, FL
We are so used to traffic & street signs in today's landscape that we often forget that they are there. Most of us rely on a GPS for way finding however without the actual street signs we would all be lost. Municipalities, schools, private communities, industrial parks and many more are all using street signs for efficient directions and way finding.
Street signs are available in many different forms. Municipalities might prioritize safety and choose for breakaway posts while a private community usually takes a decision based on the esthetics and will choose a more decorative post.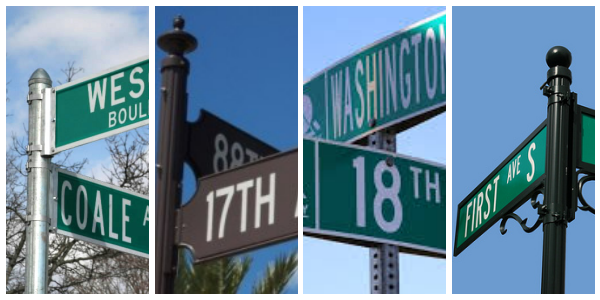 Recently we started working with the Home Owners Association of Rhapsody Community in West Broward. This community had existing street signs but they were in need of an upgrade. The original street signs were made of u-channel post with the regular green street sign blades.
After listening to their request, our sign experts did a detailed site survey of the community. According to this the exact needs could be determined in order to make a proposal. While preparing the proposal we always keep different budgets in mind and so include different options.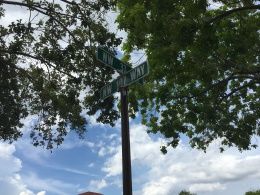 After careful review by the Home Owners Association of Rhapsody Community they have selected an elegant white PVC post. This type of street sign is a great budget friendly choice but esthetically very attractive.
After confirmation regarding the final design proofs, our production team starts the production of the street signs. The production includes fabrication of the PVC posts as well as the reflective street blades. After completion of the individual elements they are mounted and ready for installation.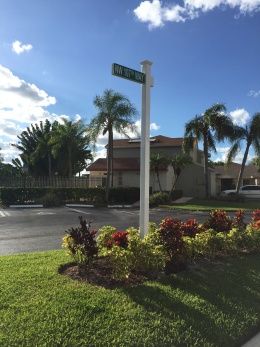 Our team at Sign Partners was responsible for the removal and disposal of the original signposts. After the removal we could proceed with the install, which is a careful process considering the safety involved.
After completion of the street signs for Rhapsody Community we will continue with the safety signs so stay tuned for that! Are you in need of street signs or interested in a free consultation? Feel free to contact us today and our team is ready to assist. 
You can call us at (561) 2706919 or e-mail us at info@sign-partners.com.