Boca Raton, FL – Front & Back Lit Illuminated Sign Relocation for Must University
Sign Partners has worked together with Must University, located in Boca Raton, for several years. The most recent project that we had the pleasure of working on together, was the relocation of their Front & Backlit Illuminated Sign. In addition to the execution of their building sign we also provided their window graphics, interior signage and event displays.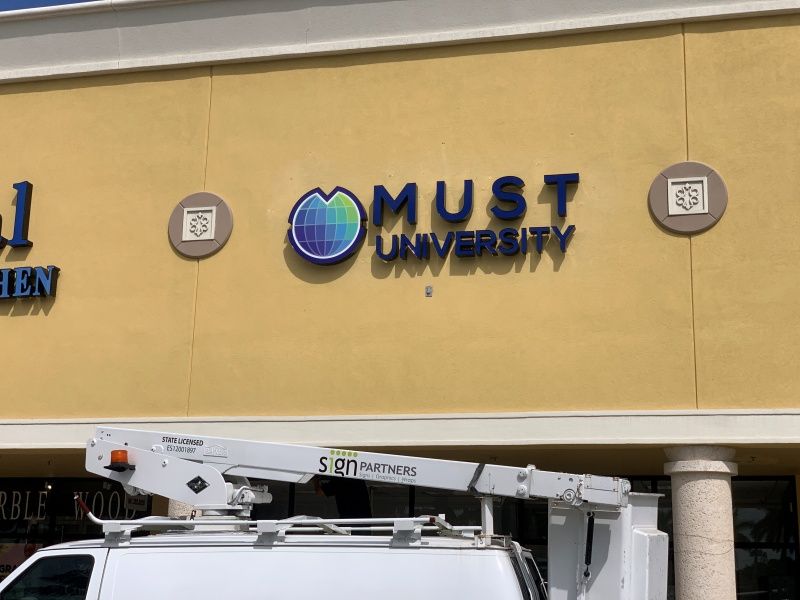 Must University
Must University is an American University with an international reach. Located in Boca Raton since 2018, providing learning opportunities in Spanish, Portuguese and English. Now more important than ever before, Must University provides an innovative program with 100% online classes.
Front & Backlit Illuminated Sign Relocation
Must University is located within the Fifth Avenue Shops in Boca Raton since 2018. When time comes, companies grow and at Sign Partners we embrace these changes. Together with Must University we looked at the possibilities related to signage, when it was their time to move. The existing building sign for Must University is a Front & Backlit Illuminated Sign, being still in good condition.
When discussing a relocation, we always consider the option to re-use the existing signage in order to keep the cost low.
A few points to be considered when deciding if the same sign can be re-used:
-        Does the existing sign comply with the sign criteria of the new landlord?
-        Does the existing sign fit in the new location?
-        Do the colors work well with the new building background & architecture?
When we were reviewing these questions for Must University the answer to all these questions were: yes! Meaning that we were able to re-use the existing Illuminated Sign at their new location.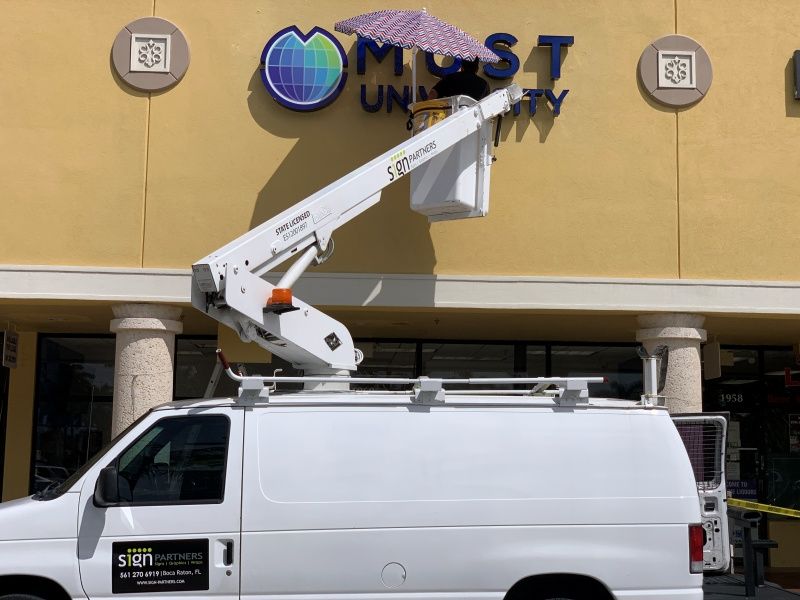 Sign Permit
For all exterior signs in Boca Raton a sign permit is required, also for a sign relocation. Luckily the process is slightly easier, considering that the sign permit has been approved previously. Sign Partners is State Licensed and Insured, being your perfect partner for all your exterior signed needs, requiring a permit.
Upon approval of the Sign Permit, Sign Partners proceeded with the sign relocation. Complying with the landlord and all local regulations in order to pass the inspections.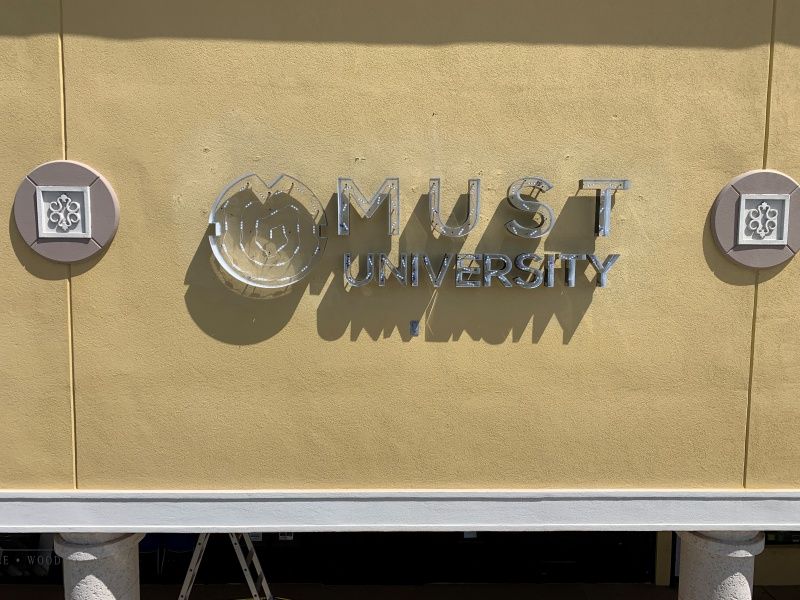 Why a Front & Backlit Illuminated Sign?
A Front & Backlit Illuminated Sign is becoming more popular for commercial storefronts. As the name of the sign already gives it away, the sign is lit from the front of the letters, as well as the back of the letters. So instead of being illuminated from either the front OR the back, the effect is slightly more dramatic. This effect will attract more attention to your storefront. Any sign design or logo can be created into a front & backlit channel letters.
Is your company considering a relocation, but are you hesitant due to everything that is involved? Give us a call at Sign Partners and we'll take care of all your signage relocation needs.