ADA Signs and Post & Panel Sign for Tennis Center in Parkland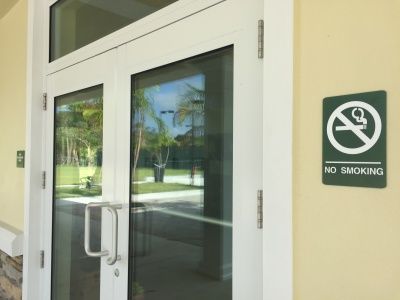 A new Tennis Center was built in the city of Parkland. Sign Partners was requested to take care of the exterior Post & Panel Sign and the interior & exterior ADA Signs. All ADA signs needs to be ADA compliant, following the Americans with Disabilities Act. Sign Partners worked together with West Construction, manufacture & install the new outdoor Tennis Center signs.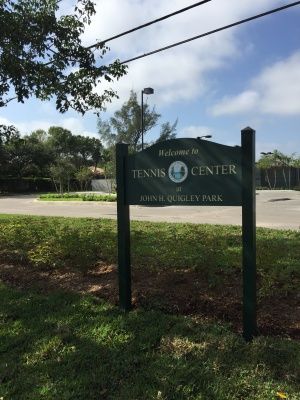 Post & Panel Sign
The main objective of the Post and Panel Sign installed outside is for visitors to spot and identify the new Tennis Center easily. We considered the fact that the directional sign has to be very big and conspicuous. Apart from that, the letters has to be bold enough to be seen from a distance away.
We also considered the color contrast. If the background color is not in wide contrast to the color of the fonts, it may not be so legible from a distance no matter how bold or large the letters are.
After so much deliberation, we came with a sign with bright white font on a green background. It is in strict compliance with ADA guidelines, the letters are very bold and the color contrast is great. So visitors can easily read it from a distance.
The installed post and panel sign is made of a routed HDU panel. This is about the most affordable and durable option. The sign is custom painted and we incorporated the logo of Parkland city, the location of the new Tennis Center.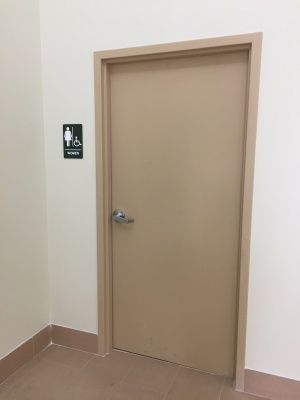 ADA Suite Signs
In addition to the Post & Panel Sign, we installed several ADA signs with the same color combination. Needless to say the signs are ADA compliant. We can comfortably say we followed ADA guidelines strictly in the design, manufacture and installation of the signs.
A directional sign is useless and a mere waste of money if it is not visible, so we made sure that the signs are very visible even from a distance. They are not only visible, they are also very catchy. Anyone who goes there will definitely notice the signs.
A visible sign is a mere decoration without information so we made the signs as informative as possible. Once visitors sight the signs, they already know that the center is a Tennis center and that smoking isn't allowed. The information is very clear and unambiguous.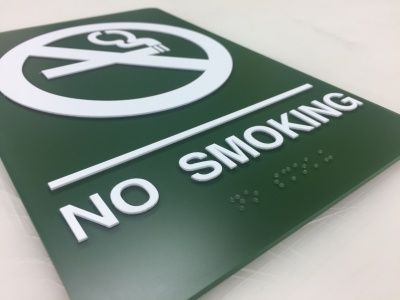 Brevity of information matters too. If the information is too long, not every visitor will read it all. Besides, the longer the message, the smaller the fonts and the less legible it will be. So the messages on the signs are very brief. Finally, despite all the features, we still considered affordability and design. We can assure you that we spent the least amount that could be used to achieve all the features outlined above.
Sign Partners specializes in indoor as well as exterior signs for existing or new facilities. Contact our experts today for a free estimate and we can visit you on site to discuss your requirements. Sign Partners can be reached via 561.270.6919 or info@sign-partners.com