ADA Signage regulations for your facility in Boca Raton, FL
Since 2012 all new buildings or altered facilities require compliant ADA handicap signs.  All permanent rooms need to have indoor handicap signs so people with disabilities can adequately access your business and find their way. At Sign Partners we find it important to be ADA compliant and at the same time provide a customized sign to meet your branding standards.
In order to be ADA compliant there are several regulations, which we will elaborate in this article.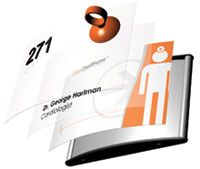 Braille
All signage's that indicate a permanent room must have Braille, which should be a direct translation and located below the copy. In case there are multiple lines of copy the Braille should be located below the entire text. Directional and informational signage does not require Braille.
Copy
The size of copy on an ADA compliant sign should be a minimum size of 5/8"and a maximum of 2". The lettering should be tactile which means raised a minimum of 1/32". In case the signage has pictograms the copy should be placed underneath the pictogram.
Font Restrictions
Unfortunately not all fonts are suitable for ADA compliant signage and therefore there are restrictions. Some examples of acceptable fonts are: Helvetica, Arial and Lucida Sans. The font must be in all caps and may NOT be italic, bold, script or decorative in any way.
Finish & Contrast
Another important aspect of ADA signage is the finish and contrast. There most be a clear contrast in color between the copy and the background. Furthermore textured background shall be kept to a minimum as to not affect legibility. Signs intended to be ready by touch should not have sharp or abrasive edges so we will take that into consideration of the design.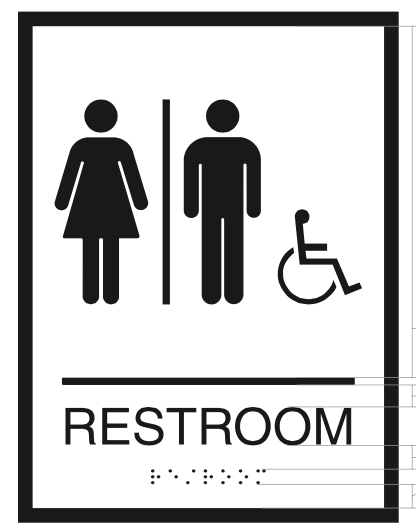 Installation
Installation is the last but also important part of ADA compliant signage. First of all signs may not protrude more then 4"from a wall, therefore flat installation is always recommended. The height of the signage is crucial and the baseline of lowest character must be 48" above the finish floor and the baseline of the highest character must not exceed above 60" above the finish floor.
Summarizing the above it might seem complicated to have ADA compliant signage in your facility. However our knowledgeable team will take care of all the considerations in order to assist you with ADA compliant signage's.
To learn more about ADA Signage have a look at our dedicated product page. Contact us today for a free consultation or estimate via info@sign-partners.com or call us at (561) 270 6919.