ADA Compliant Suite Signs & Room Signs for Lynn University in Boca Raton
In the past, disabled persons have been forced to cope as best they could while trying to live and work in a world made for able-bodied persons. A good deal of this situation had nothing to do with lack of empathy, but simply a lack of awareness.
For those who dealt daily with a disabled person's trials, the need for more disabled-friendly facilities was ofcourse, apparent, but most took the extra task in stride and everyone tried to make the best of the situation.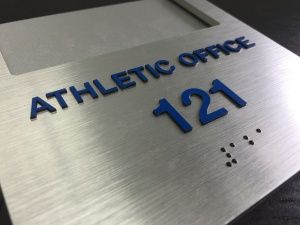 Americans with Disbilities Act
In 1990, the ADA (The Americans with Disabilities Act) became law throughout the United States and amendments have now made the ADA law even more comprehensive and better suited to all those who suffer from special needs. 
Wheelchair-bound persons in particular find it extremely difficult to get a wheelchair through normal-size doors and entrances, and of course steps present an almost unsurmountable challenge. Although, even in the past, some acceptable facilities might be found, most disabled persons had no way of knowing about them. Only by word of mouth perhaps did they come to realize that one entrance to a building, for instance, might have a ramp by another entrance.
ADA signage requirements in public buildings
Today, the ADA expects public buildings to post appropriate signage what will be easily visible and informative to all. ADA signs are to be seen in most public buildings today and more and more disabled persons, in particular persons whose only mobility is through the use of a wheelchair. Even those who need to use a walker often find difficulty negotiating staircases and some doorways. For the blind, every step is a challenge. Having Braille signs posted in proper settings can provide an extremely comforting aid not only in moving along, but in the confidence such a sign can bring.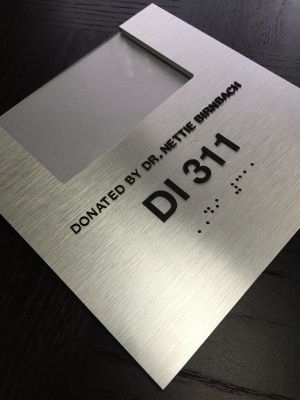 Custom ADA Signs at Lynn University
In Boca Raton, Florida, Lynn University's campus with its multitude of buildings, offices and office rooms makes up a veritable maze of walkways, halls and doorways that can be confusing to even the most able person. Lynn University also now serves as a model for other business-related structures not only in Florida, but throughout the nation. Exterior as well as interior signs make movement about the campus nearly as easy for a disabled person as for any other person.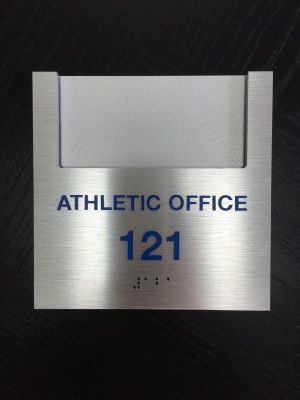 In the case of Lynn University, all the signs posted throughout athletic building had to be replaced by ADA compliant signs, made in the Lynn University brand style. The new signs installed had to indicate restrooms, locker rooms as well as signs denoting offices and the different rooms within the offices.
All ADA signs have been constructed using 3/16" thick aluminum with a brushed aluminum finish. In keeping with the university's branding, the Lynn brand color was used. This is blue. All the new signs were designed and constructed to fit the particular building to which they would be attached.
This ADA compliant signage installed throughout this university may serve as a model for all and business persons are cordially invited to become more informed about not only the service they render, but the additional consumers their installations will attract as well.
You can learn more about ADA signs via the following link and you can download our free ADA Compliant Signage Regulation brochure there as well.