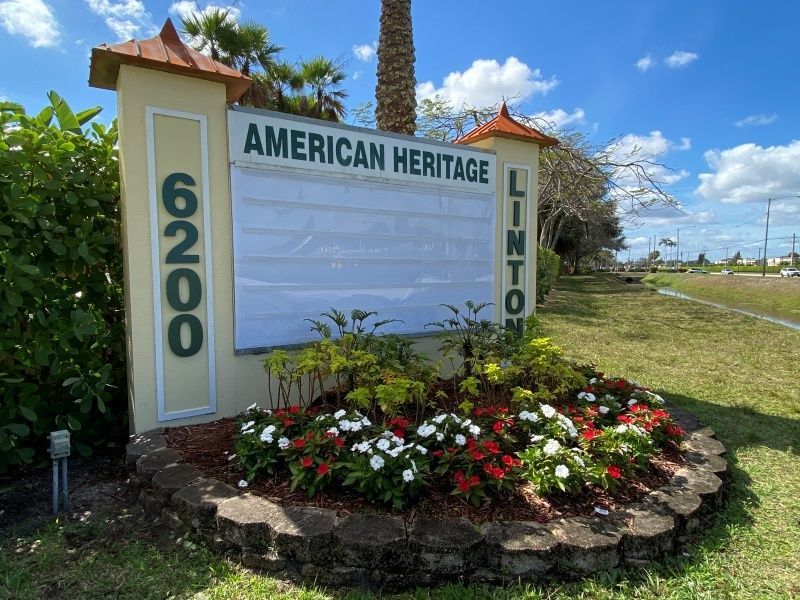 Prominently placed, attractive signage is a tremendous tool for boosting your school spirit among students, staff, and the community at-large. Let's take a tour through a hypothetical large high school campus to fully appreciate how signage enhances the school experience:
A large monument sign greets you as you turn from the main road onto the campus. As children grow up in the community, the monument sign becomes a life milestone for them as their parents note "one day you'll be going to school there". Current students and alumni feel a sense of pride when they pass the sign. The sign also serves an important communication function so visitors coming to the school for a football game, debate tournament, or theatre event know they have arrived at the right place.
Once you have turned onto campus, a wayfinding sign with arrows directs you to popular locations, such as the main building, the field house, tennis courts, pool, etc. This will be especially useful for sports games and theatre performances since those attendees will likely not be familiar with your school layout.
If the school has a large parking lot, prominent signage in each section of the lot helps drivers learn which lots are for visitors, staff, and students. To further simplify identifying the correct parking location, color-code each section of the lot. For students who have a parent drop them off or pick them up, prominent signage by the drop off / pick up line informs parents where to go.
Right through the main entrance of the building, greet students and visitors with an oversized wall graphic with imagery of the school name and mascot. Some schools like to include an inspirational quote or school motto as well. It's also helpful to have wayfinding signs hanging from the ceiling for popular destinations, such as the auditorium, cafeteria, guidance office, health office, library, main office, etc.
At several places on each floor, hang a placard listing the room numbers in the hallway to help new students and staff find their way. This is especially important if your school has multiple hallways on each floor, hard-to-find rooms, or a nonstandard room numbering system.
While the COVID-19 pandemic has abated, it's still useful to hang signs in the bathrooms and classrooms reminding teens to use good hygiene, such as washing their hands regularly and sneezing into their elbows or a tissue.
In the cafeteria, hang signs from the ceiling so students know which lines are for hot food, cold food, salad bar, pizza, grab-and-go items, as well as the lines for check-out. The cafeteria is also a great location to reinforce school spirit with additional wall graphics of the school motto and mascot.
Signage is the quiet hero in creating a warm, welcoming school environment for students, faculty and visitors. Sign Partners has partnered with schools and colleges throughout South Florida to enhance their school environment. Call us today to learn what we can do for you.
Sign Partners is a licensed and insured sign company in South Florida, proudly serving West Palm Beach, Boynton Beach, Delray Beach, Deerfield Beach, Pompano Beach, Fort Lauderdale, Miami, and surrounding areas. Our experts specialize in bringing your business to life through branded visuals throughout your building and beyond.
Our experienced team can craft all your signs: lobby and office signs, ADA compliant signs, monument signs, illuminated signs, business signs, vehicle wraps, trade show displays, outdoor signs, interior signs, window graphics, vehicle lettering, decals, and custom street signs, using state-of-the-art technology.
Contact us today at 561-270-6919 for a free consultation and let us provide you with a superior sign buying experience.