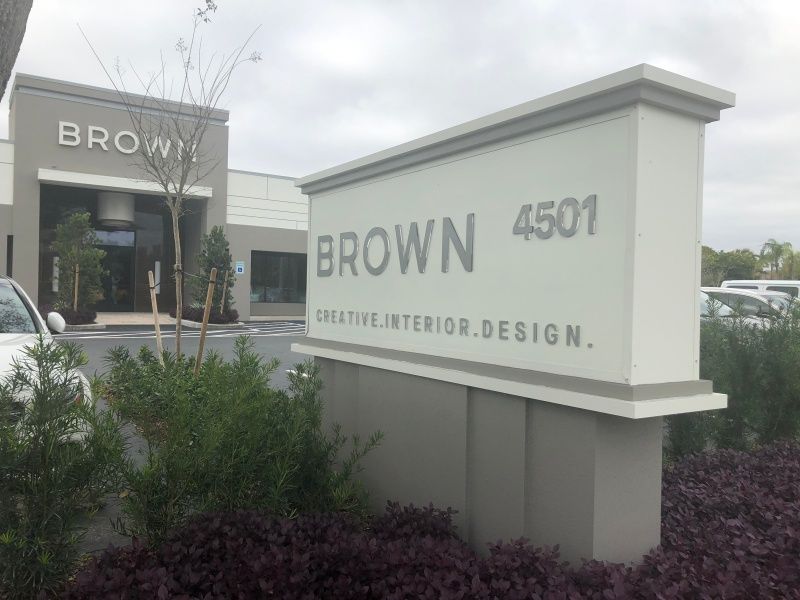 Monument signs create a stately presence that set them apart from other sign styles. They establish a sense of trust, permanence, and prestige. They also are an effective method for advertising your business and helping customers and suppliers easily find your location. They aren't for every business though. If you are considering your signage options, keep the following in mind when deciding if a monument sign is right for you:
· Since monument signs are so large, they require more real estate than other styles of signs. Make sure that your property provides adequate space for the sign.
· If your sign incorporates landscaping elements in its design, such as a flowerbed or shrubbery, make sure that the landscaping is well-maintained at all times. A beautiful sign surrounded by dead or overgrown plants is not going to create the image you are trying to convey.
· Check with your local zoning committee to ensure that monument signs are permitted in your area. If they are allowed, there may be regulations detailing their dimensions, distance from the road, or other factors to keep in mind.
If a monument sign is right for your business, the design choices are nearly endless. If you are looking for inspiration, some ideas that we have brought to life for our clients include:
· Nature Trail: We created a monument sign to attract hiking enthusiasts to Boca Raton's Patch Reef Trail. The primary color on the sign was a dark green that both matched the city's other park signs as well as instantly communicated an environmentally-friendly and natural feel. The lettering for the sign was gold – creating a strong contrast from the dark green background and making the sign easy to read. The sign also included the logo for the city of Boca Raton to reinforce the positive association between the city and the beautiful trail.
· Community Entrance Signs: We have developed countless entrance signs for communities and subdivisions throughout South Florida. For one community, we developed a façade of light-colored stone in a rectangular shape with clean gold-colored horizontal stripes to enhance its modern image. The center of the monument featured an untextured white background with the community's name in a large black font to enhance readability. The end result was a luxurious looking and practical sign that assists visitors with wayfinding, while upgrading the aesthetics of the community.
· Hotel: We partnered with a national hotel chain to create an entrance sign for their property. For this project, we featured the company's existing logo and color scheme and included lighting elements inside the sign to allow the hotel's name to light up at night, making it easy for weary travelers to easily find the hotel.
Call Sign Partners to learn how we can give your business or community increased visibility as well as all the other benefits that come with having a monument sign.
Sign Partners is a licensed and insured sign company in South Florida, proudly serving West Palm Beach, Boynton Beach, Delray Beach, Deerfield Beach, Pompano Beach, Fort Lauderdale, Miami, and surrounding areas. Our experts specialize in bringing your business to life through branded visuals throughout your building and beyond.
Our experienced team can craft all your signs: lobby and office signs, ADA compliant signs, monument signs, illuminated signs, business signs, vehicle wraps, trade show displays, outdoor signs, interior signs, window graphics, vehicle lettering, decals, and custom street signs, using state-of-the-art technology.
Contact us today at 561-270-6919 for a free consultation and let us provide you with a superior sign buying experience.