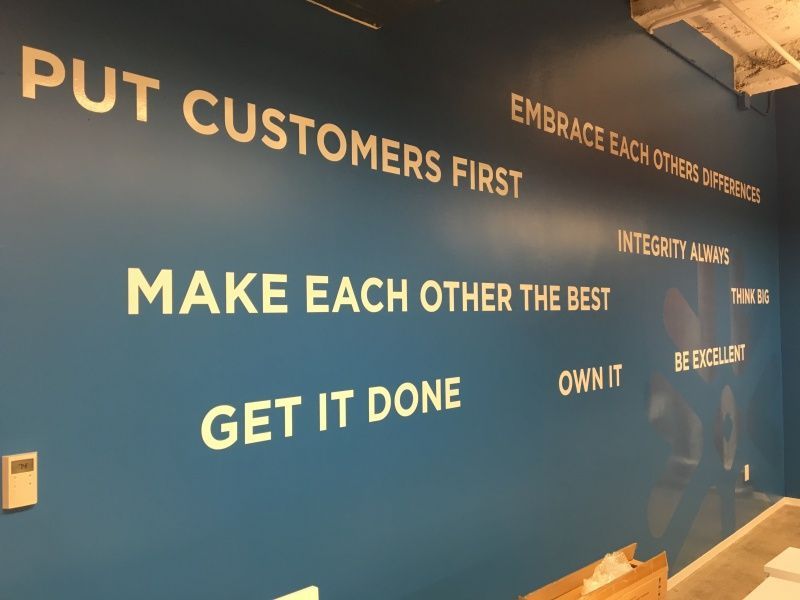 If you're seeking a customized and visually striking look for your business that is also low maintenance and affordable, consider installing wall graphics. Vinyl wall graphics work like giant temporary stickers placed on the wall. These captivating designs have far more functionality than traditional framed artwork or wallpaper that blends in with the background. Here are the reasons why you should consider wall graphics when updating the look of your business:
Wall graphics can serve many purposes, such as keeping customers entertained in a waiting room; promoting products or sales to a captive audience; creating a mood of hope, inspiration, or calmness in a spa or medical center; or boosting employee productivity with sales goals. Some examples of this are using imagery of a beach or a scenic landscape in a spa, cartoon characters in an area designed for children, inspirational quotes and images of athletes in a gym, or the company vision in a sales office.
Wall graphics are an excellent medium for promoting specific products or services and keeping your brand name top of mind.
Wall graphics are an attractive, easy-to-use, and non-intrusive approach for wayfinding in a large building or property.
Wall graphics are 100% customizable – the size, shape, color, and design are created to meet your specifications. You are not limited to selecting from pre-fab designs, if you can dream it, Sign Partners can design it! Our graphic design team members are talented artists with years of experience and dozens of satisfied customers and can make your vision a reality.
Wall graphics won't damage the underlying wall. When you are ready to update your look, simply peel off the old wall graphics and install the new ones. No costly down time to replaster or repaint the wall.
Wall graphics are affordable. If you want to custom design an entire wall without wall graphics, you will need to hire an artist to design and paint a mural. This process takes months, is extraordinarily expensive, and is permanent. In contrast, wall graphics can be designed, printed, and installed in a few weeks, cost a fraction of the price of a mural, and can easily be removed and replaced.
Wall graphics are easy to clean. Simply wipe them down with a damp cloth and they look fresh and new.
Sign Partners has designed, produced, and installed wall graphics for numerous large and small organizations throughout South Florida. Our skilled team members can come to your location to analyze the site and develop recommendations on how wall graphics can enhance your customers' experience and help you achieve your business goals. Contact us today to learn more.
Sign Partners is a licensed and insured sign company in South Florida, proudly serving West Palm Beach, Boynton Beach, Delray Beach, Deerfield Beach, Pompano Beach, Fort Lauderdale, Miami, and surrounding areas. Our experts specialize in bringing your business to life through branded visuals throughout your building and beyond.
Our experienced team can craft all your signs: lobby and office signs, ADA compliant signs, monument signs, illuminated signs, business signs, vehicle wraps, trade show displays, outdoor signs, interior signs, window graphics, vehicle lettering, decals, and custom street signs, using state-of-the-art technology.
Contact us today at 561-270-6919 for a free consultation and let us provide you with a superior sign buying experience.