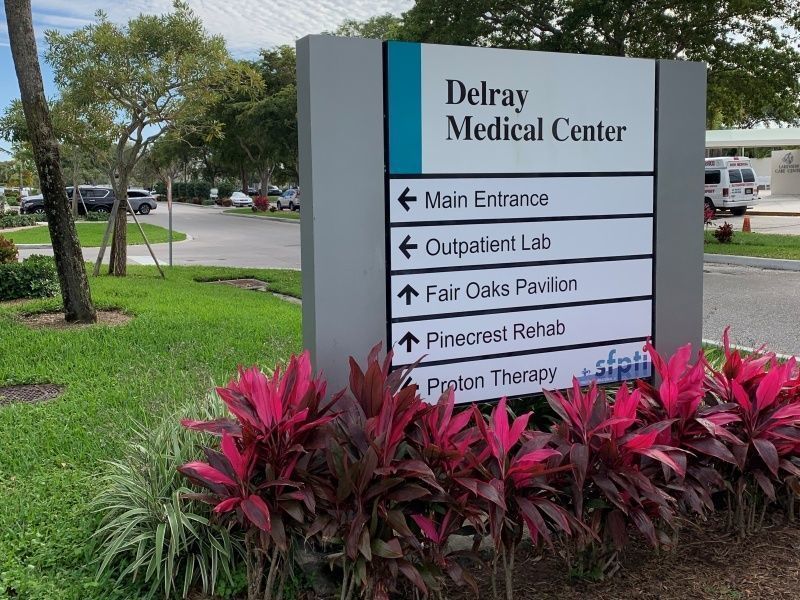 A large hospital or medical services building may have thousands of people entering and exiting each day. This could include patients, medical professionals, visitors, suppliers, waste removers, ambulance personnel, and business managers, just to name a few. It's not practical for all of these people to stop at the entrance or reception desk and ask for directions. Effective wayfinding and informational signage are essential to efficiently guide all of these groups of people throughout the facility.
When someone approaches the facility, having a monument sign or other large outdoor signage lets them know that they have arrived in the right place. Moreover, a prominent, well-maintained sign conveys professionalism and modernity, which is especially important for patients and their loved ones, as well as potential new employees. At the entrance to the grounds, use wayfinding signs to inform stakeholders where to go for the emergency room, visitor parking, employee parking, deliveries, ambulance entrances, and outpatient services. If the parking lot is large, additional signage throughout the lot, such as color coding and naming different sections can help people easily return to their vehicles. Directional signs throughout the lot can help people find the parking spot closest to the entrance they are seeking.
Once inside, information signs listing where to find each department can reduce anxiety for patients and visitors. Similar to the parking garage, wayfinding signs in long corridors help patients know they are on track to find the right location. Warning signs in radiology departments, handwashing signs throughout, reminders to wear PPE and other OSHA and government-mandated signage should be prominently displayed to keep both patients and staff safe. Remember that all safety and wayfinding signage must be ADA-compliant, featuring braille and raised images as well as contrasting colors and non-glossy finishes. Sign Partners team members are experts at ensuring that signage meets ADA requirements.
To further enhance patients' experience with your healthcare facility, some other tips to keep in mind are:
Create wall graphics depicting relaxing scenes or uplifting messages in waiting areas, the emergency room, and in-patient rooms.
For pediatric waiting rooms or exam rooms, decorate the walls with graphics of cartoon characters and fun kids' imagery. Consider graphics for the ceiling as well to keep small children distracted while they are lying down during unpleasant medical procedures.
If you have a large number of patients or employees who speak a language other than English as their primary language, hang signs translated into other languages for all essential information.
Visiting a medical facility can be an angst-ridden experience. Effective signage can help make patients feel more at ease and confident that they are making the right choice by using your facility. Sign Partners has developed beautiful and functional signage for healthcare facilities throughout South Florida. Contact us today to learn how we can help you improve your patients' and other stakeholders' experience with your facilities.
Sign Partners is a licensed and insured sign company in South Florida, proudly serving West Palm Beach, Boynton Beach, Delray Beach, Deerfield Beach, Pompano Beach, Fort Lauderdale, Miami, and surrounding areas. Our experts specialize in bringing your business to life through branded visuals throughout your building and beyond.
Our experienced team can craft all your signs: lobby and office signs, ADA compliant signs, monument signs, illuminated signs, business signs, vehicle wraps, trade show displays, outdoor signs, interior signs, window graphics, vehicle lettering, decals, and custom street signs, using state-of-the-art technology.
Contact us today at 561-270-6919 for a free consultation and let us provide you with a superior sign buying experience.