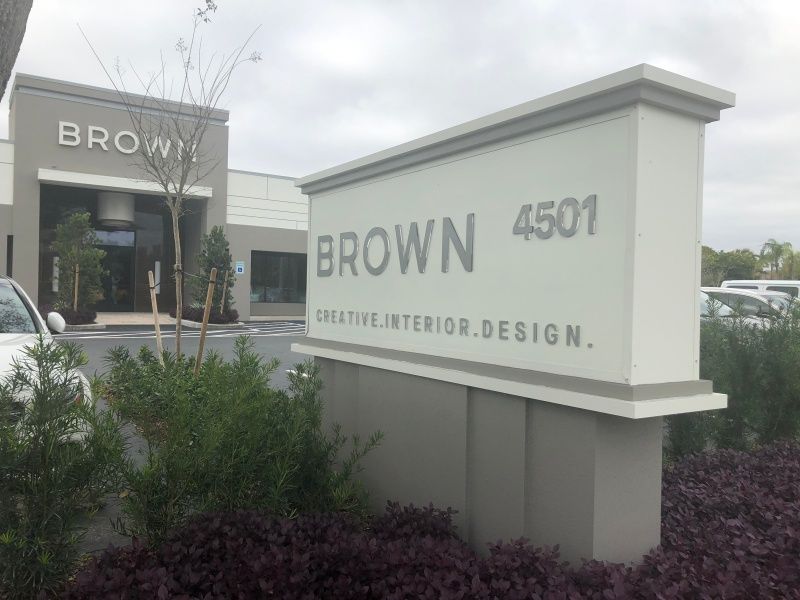 After investing and installing the perfect sign, you need to keep it in tip-top shape. This is a vital part of your branding that needs to be at the top of your to-do list. Think about how you feel when you visit a store or other business and there is a dusty or grungy look. You certainly don't want potential customers to see your business and think that way! To keep your sign looking new and fresh, regular maintenance is a must.  
Maintaining Your Channel Letter Signs
Cleaning your channel letters quarterly is an essential part of their maintenance. Sign Partners is an expert in sign maintenance and would be happy to clean and maintain your sign, whether it was purchased from us or another company. If you prefer to maintain your channel letter sign yourself, following are some pro tips:
Start by inspecting the sign and its surroundings:
Are there any tree branches blocking your sign? Any wasp hives or bird nests on/near your sign? Peeling paint on the building near the sign? All of these factors contribute to passersby perception of your business and need to be addressed.
Is your sign illuminating properly? If some of the letters are no longer illuminated, it's time to retrofit new LED lights into the sign. Similarly, if your sign is illuminated with neon lights, this would be a good opportunity to update it by removing the neon lights and replacing them with LED ones. Please note that retrofitting lights is best left to the professionals. Contact Sign Partners to learn more about how we can help with this.
Now it's time to clean the sign:
Turn off the electricity to the sign.
Start by removing any loose dirt or debris.  
Then, dip a microfiber or other soft cloth in lukewarm water and a mild detergent that your sign manufacturer recommends. Gently wipe all surfaces of each letter clean. Avoid any abrasive cloths or cleaners because they can scratch the acrylic and leave a mark.
Never pressure wash or use an ammonia-based cleanser. They can permanently damage the sign.
Clean the inside and outside of the signs.
Allow the sign to air dry.
Maintaining Your Monument Sign
As with channel letter signs, monument signs need regular cleaning and maintenance. Again, the first step is to examine the sign's surroundings, the sign itself, and then clean the sign using the same method described above. Special considerations with monument signs include:
Carefully examine the sign, especially at the base, for any necessary structural repairs.
Are any screws rusty and need replacement?
Is any paint chipped? If so, use touch-up paint to fix it.
Check the landscaping near the sign. Does it look attractive, neat, and tidy? Is there enough foliage and plants to provide a wide enough border around the sign to protect it from the gardener's lawn mowers and edgers?
Does the sign have any lights on or near it? Are they functioning properly?
With regular cleanings and maintenance, your outdoor signage can retain its original beauty and last for years to come. Or, if sign cleaning and maintenance is too time-consuming, call Sign Partners and we would be happy to do it for you.
Sign Partners is a licensed and insured sign company in South Florida, proudly serving West Palm Beach, Boynton Beach, Delray Beach, Deerfield Beach, Pompano Beach, Fort Lauderdale, Miami, and surrounding areas. Our experts specialize in bringing your business to life through branded visuals throughout your building and beyond.
Our experienced team can craft all your signs: lobby and office signs, ADA compliant signs, monument signs, illuminated signs, business signs, vehicle wraps, trade show displays, outdoor signs, interior signs, window graphics, vehicle lettering, decals, and custom street signs, using state-of-the-art technology.
Contact us today at 561-270-6919 for a free consultation and let us provide you with a superior sign buying experience.