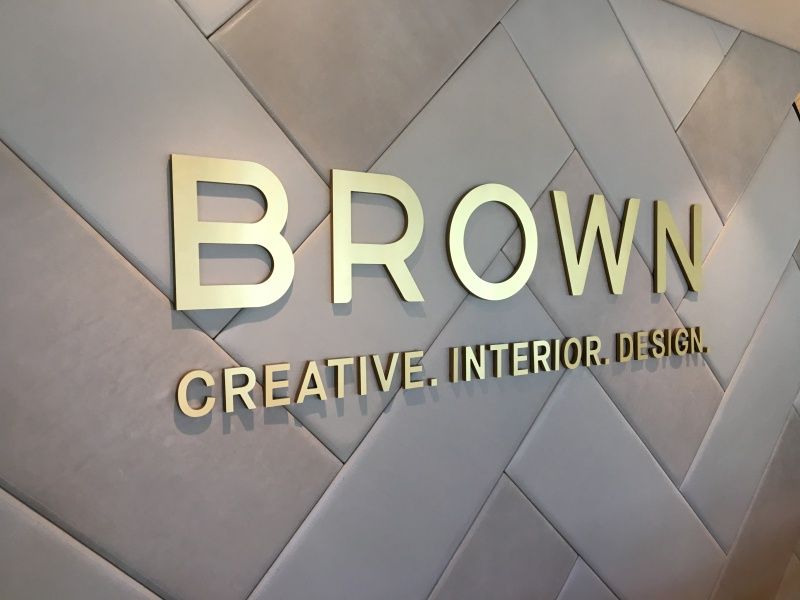 On-brand, attractive, indoor signage should be a key element in every organization's marketing strategy. Let's take a look at the top three reasons why your organization should prominently feature these signs:
Enhanced branding and recognition: Signage featuring the same branding as your website, advertising, and other communications reinforces your company's image. It sets a tone for the customers' expectations of your organization. In particular, lobby signage creates a professional first impression for new customers and helps them feel at-ease and excited to engage with a brand that they know and love. It's important to note that the term "lobby signage" is a misnomer; while these types of signs are traditionally found in lobbies, they are also great for waiting rooms, front windows, and any customer-facing locations.
Positive experience: Signage helps your customers know what to do and where to go. For example, if a customer is trying to find a specific clothing store in a large mall, having directional signs showing the location of popular stores and arrows leading toward them can encourage a more positive shopping experience. Once the customer finds the clothing store, having signs denoting which sections of the store are for petites, clearance items, fitting rooms, etc., can elevate the shopping experience even more. Directional signs can also be very important in a hospital or other large medical building. Patients may be nervous or distracted and having clear directional signage helps minimize stress in an already tense situation.
Employee morale: Indoor signage doesn't just benefit customers. Posting sales targets, company vision, and motivational quotes using wall graphics or wraps can boost employee morale and motivation. Moreover, temporary wall or floor graphics can be a fun way to provide seasonal décor.
If you are ready to explore adding indoor signage to your location, here are some types of signage to keep in mind:
Directory and directional signage: Perfect for large spaces, such as the lobby of an office building or medical building. These signs list all the departments or companies in the building and provide their suite numbers so customers, patients, and visitors can easily find where they need to go. Directory signage can be combined with directional signage located throughout the building to help visitors find their way around.
Wall graphics and/or wraps: Covers either part of a wall or a full wall with imagery, messages, logos, or even a fun background to set the ambiance for your customers' experience. They can be temporary or permanent.
Lobby signs: Can range in size and style based on your organization's needs and budget. Some organizations may want to use a wall graphic, while others may construct a 3D aluminum or acrylic sign, or an LED sign.
Not sure what kind of indoor signage you need? Contact Sign Partners and one of our technicians will visit your location, evaluate your space, and develop a recommendation for the best signage options to maximize customer and employee experiences with your organization.
Sign Partners is a licensed and insured sign company in South Florida, proudly serving West Palm Beach, Boynton Beach, Delray Beach, Deerfield Beach, Pompano Beach, Fort Lauderdale, Miami, and surrounding areas. Our experts specialize in bringing your business to life through branded visuals throughout your building and beyond.
Our experienced team can craft all your signs: lobby and office signs, ADA compliant signs, monument signs, illuminated signs, business signs, vehicle wraps, trade show displays, outdoor signs, interior signs, window graphics, vehicle lettering, decals, and custom street signs, using state-of-the-art technology.
Contact us today at 561-270-6919 for a free consultation and let us provide you with a superior sign buying experience.