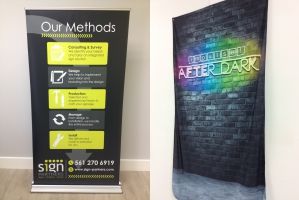 Are you looking for a banner for your trade show, announcement, product display or perhaps an event? Nowadays there are so many different options, which are all great but perhaps not for each occasion. Therefore we have listed the most popular banners below to advice when to use at it's best.
Retractable Banner
A retractable banner is the most popular type of banner for trade show displays. They come with a practical carrying case, are easy to set-up and can be used over and over again. Other ways to use a retractable banner are for example during indoor events at a registration desk, in a hotel with restaurant promotions, or how about using them during a training to display your key training message? Since retractable banners are easy to carry and lightweight they are used best in an indoor surrounding. Outdoor use might be challenging due to unexpected wind and an unstable underground.
Exterior Banner
Exterior banners are used for all sort of purposes, both long and short term use. Ideas to use an exterior banner are for example to announce a grand opening, seasonal sale or as temporary signage while waiting for your permit to be approved. Exterior Banners can be made from different types of vinyl depending on the needed usage. Exterior banners are usually made for single time use however if you would like to re-use an exterior banner for a different event or promotion it is possible as well. Important to keep in mind that this type of banner needs to be stored carefully in order to avoid folds which can't be ironed out.
Fabric Banner
A Fabric banner is a very practical sign solution, which can be used both indoor and outdoor. They don't come only in the typical banner size but can be used as flags or in full trade show booths. Fabric banners can be made to hang with grommets or pole pockets depending on where to use them. A great advantage of fabric banners is that they are very lightweight and most of them do not wrinkle so it's easy to transport. Furthermore fabric banners can be made fire retardant which is required in some venues.
Hopefully this article will make it a little easier to choose the perfect banner for the right occasion. However feel free to contact our experts at Sign Partners for further information at anytime. You can reach us via info@sign-partners.com or (561) 270 6919.