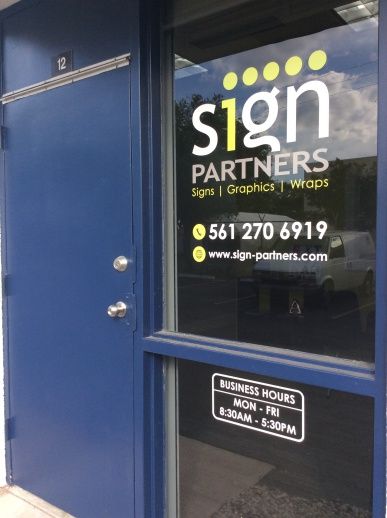 You want to stand out and create a great first impression with your customers. Let's start at the point before someone even enters your facility!
The question is how do you create a welcoming appearance from the street? Your windows, of course! Whether it's as simple as easy-to-read business hours, or a creative display of your brand personality, Sign Partners can help.
When selecting the right window decals for your company there are a few things to take into consideration:
- Do you want to apply them indoor or outdoor?
- Are they going to be temporary or permanent?
- Apart from communicating a message is there another purpose of the window sign? For example does it need to create privacy, block the sun or perhaps be as transparent as possible?
Last but not least we will review your city code as there might be limitations on the size of the window signs. Exterior window signs in Boca Raton may not exceed 20% coverage of each glass window or door.
Most window signs are made out of vinyl and are easy to apply and remove without damage to the window.
- The most common window sign can be made out of one color, which we refer to as cut vinyl.
- The most popular alternative is full color and the sky is the limit as we digitally print any of your designs directly on the vinyl.
- Perforated vinyl or frosted vinyl, are great options to create privacy.
Do you need assistance with the design or selection of the right window sign? Our Graphic Designer is ready to assist and brainstorm about some great ideas. Contact us today for a free quote at 561.270.6919 or info@sign-partners.com