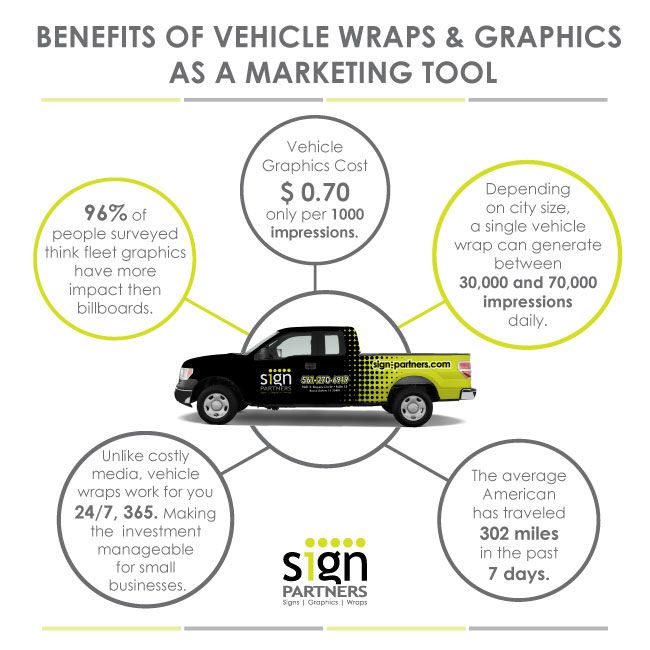 Vehicle wraps for sales, service and delivery vehicles are a powerful branding and marketing tool. The secret to effective advertising is to make a great first impression. Vehicle wraps are a very memorable way to spread your business's message.
A vehicle wrap can be a large investment for a small company and needs to be considered carefully. Breaking down the cost per impression or per day will help you to understand the value of your investment. This article will give some more insights in the benefits of vehicle wraps as a marketing and advertising tool.
Benefits of vehicle wraps
1. Outdoor media reaches consumers, which are not exposed or lightly exposed to newspapers, magazines, local radio or television. Especially heavy commuters are more difficult to reach by these media's, which might be exactly your target audience. Studies have shown that virtually every American (96 percent) travels in a vehicle each week as either a driver or a passenger. This said, vehicle advertising would help you to close the gap within your target audience.
2. Driving and parking a wrapped vehicle around your local service area can dramatically increase awareness among those who live, work or attend school nearby and those are exactly who you wish to target for your local business. Furthermore vehicle wraps can be used for long-term advertising or short-term product or event promotions through adjustable wraps.
3. Unlike radio ads or print ads that interrupt a person's listening or reading, vehicle wraps attract attention without disturbance. Potential customers can easily spot your message without significant distraction from what they're doing. Customers respond better to advertising that doesn't take an "in-your-face" approach. Many people enjoy striking vehicle wraps and don't mind the advertising.
The statistics
- 96% of people surveyed think fleet graphics have more impact then billboards.
- Vehicle Graphics Cost $ 0.70 only per 1000 impressions.
- Depending on city and population size, a single vehicle wrap can generate between 30,000 and 70,000 impressions daily.
- Unlike costly media, vehicle wraps work for you 24/7, 365 days per year, making the actual investment manageable for most small businesses.
- The average American has traveled 302 miles in the past 7 days.
Our team is delighted to give any support or help you to find out if a vehicle wrap is the right form of advertising for your company. Interested to speak with us or to get an estimate for a vehicle wrap please contact us by phone (561) 270 6919 or e-mail at info@sign-partners.com