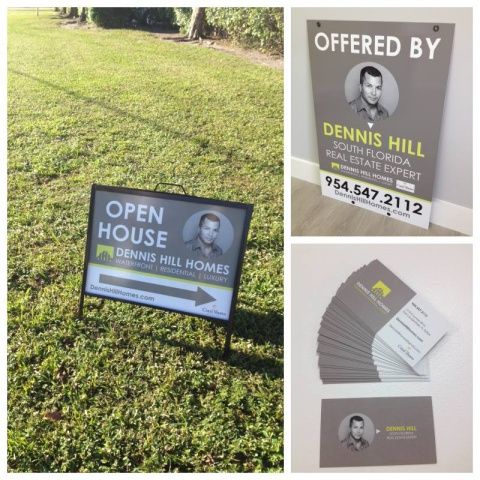 At Sign Partners we focus on communicating your company identity through high quality and precise sign solutions. However in order to do so you need a company identity, right? Sign Partners likes to work with new companies to create their brand identity and make you stand out from your competition. We also work with existing companies and take care of their rebranding. Recently we have worked with Dennis Hill Homes for their logo design, business cards and listing signs.
The first step towards creating a company logo is to sit down with you and understand your company culture. We create a design brief based on your company profile, target audience and competitor set. After this we discuss further details regarding your inspiration for the logo, colors, fonts and of course the style you are looking for.
After our first meeting with Dennis Hill Homes our Graphic Designer got inspired and started working on the first draft of the logo. After a few amendments we came up with the final design of the logo followed by the final approval from Dennis Hill Home. Customer satisfaction is important at Sign Partners and therefore we are pleased to incorporate any comments from our customers. Our Graphic Designer makes sure that the final logo format is compatible in different formats and suitable for different print outcomes.
With the approved logo we continue to work on the designs for Dennis Hill Homes business cards, open-house signs and listing signs. You only provide us with the exact content required for each product and Sign Partners does the rest. After this design stage there is only one task left for the customer before we proceed with the production. Proof reading of the artwork is the most important part to avoid errors and disappointments later on. To assist our customer with this process we make sure to have all our eyes going over the proofs several times to pick-up any errors if any.
As part of the production process Sign Partners makes sure to use quality materials for long-lasting usage. A final quality check will be done and everything is ready for delivery or installation. We are proud to share that Dennis Hill was pleased with the final products and quoting him: 'everything looks even better in real'.
Are you looking to create your company identity or perhaps got inspired to rebrand your business? Contact us today and we bundle our creativity to make you stand out!