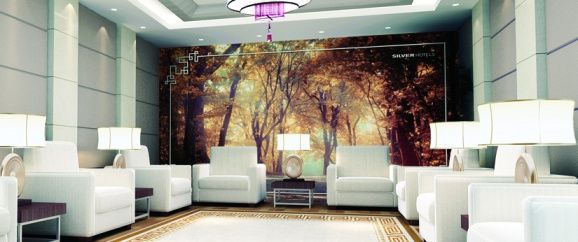 You might have noticed that wallpaper has made a huge comeback during the past few years. Slowly we are forgetting about the old-fashioned messy wallpaper and are focusing on great alternatives. With the latest technology you can actually design your on wallpapers and upgrade any area into a great space.
Design
With the HP digital printing technology, you can do short runs of a design, just one wall, or print as many as you want, eliminating the costly screen or cylinder that's required to be made through the traditional wallpaper route. Designs can be totally custom made by Sign Partner's unique designer. Using our HP Latex printer, we can create custom patterns, combine type and graphics, or use high-resolution photography.
Production
Digital printing on HP's latest latex printer is what you want to learn more about. We are proud to work with its latest model printer and use latex inks. Latex ink is water based which makes it eco-friendly and doesn't have strong odors.
With the HP Latex Printing Technologies, we can print on a big variety of materials like non-woven wallpaper, paper, self-adhesive vinyl, PVC-free media, coated substrates, uncoated substrates, embossed media, and textiles. HP's newest removable wallpaper offers vivid color and consistency, and will stay on the wall for as long (or as little) as you'd like.
Installation
After design and production there is only one step left to complete your custom wallpaper. A certified installer is your best partner to expertly install your custom wallpaper for best results. Our people know how to prep the walls if needed, how to remove obstacles like thermostats and light switches, and how to deal with imperfect walls.
Interested in custom wallpaper? Learn more on our website or perhaps have a look at our wall decals & murals. Feel free to contact us today for any requests!