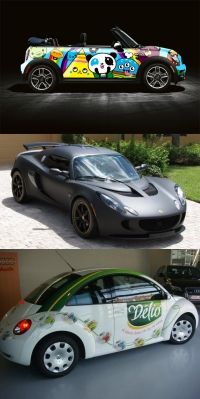 Car Wraps & Graphics are a hot topic nowadays. This new trend appears more and more on vehicles around you. It all started with the popular Formula1 cars displaying their sponsors, but nowadays used to advertise any company as a driving billboard.
If you might be looking for a new style there are plenty of options too! Hotter then hot is wrapping your new car in a different color or with a mat finishing. This gives an extremely trendy look and apart from that it protects your car from scratches.
In this article we will emphasize on car wraps & graphics but don't forget that any type of vehicle is suitable for a wrap. I am sure you cannot even imagine a truck without graphic nowadays, so imagine the same for vans, buses and boats.
What is the difference between a car wrap and car graphic?
A car wrap is something that completely covers the exterior of the vehicle by either changing the color, finish or design of the cars existing panels.
The term car graphic is used when your car is partially covered. This can be as simple as your company name and phone number only, or a more extensive graphic but leaving the original color of your car visible.
Do car wraps damage my vehicle paint?
If a car wrap is installed properly it shouldn't damage the original vehicle paint. However before we answer a firm no to this question a few things should be considered.
- The vehicle paint under the wrap has to be original and not repainted, because repainted vehicles might get damaged.
- Make sure that the vinyl product used for your wrap is from a trusted and reputable high quality brand.
- Work with a professional installer who doesn't damage or cuts the paint during the installation
- Do not leave the wrap longer on your vehicle then advised by the product manufacturer as this might affect the paint of your vehicle.
How long does a car wrap typically last?
How long a car wrap or graphic lasts depends on the maintenance of the vehicle and the quality of the installation. On average the lifetime of a car wrap is four years, although many product manufacturers offer up to 7 years warranties.
How do I wash my wrapped car?
Hand wash is the preferred method compared to drive-through car wash. Especially with partially wrapped cars, drive-through car wash can cause peeling and lifted edges. It's recommended to was a wrapped vehicle once a week, especially when exposed to a lot of dirt or pollutants.
Can I remove the vinyl wrap myself?
Technically you can remove a vinyl installation yourself with careful monitored heat from a heat gun. However it does take practice and you might not want to take the risk of damaging your original vehicle paint. Therefore it's recommend to remove a vehicle wrap by a professional installer.
Vehicle Wraps & Graphics are a great way to pimp your vehicle or use it as advertisement. However be careful with cheap vehicle wraps as this might become expensive in the end. A professional installer knows how to clean the vehicle properly prior to applying the wrap and avoid bubbles underneath the vinyl. A good branded product offers warranty and is tested on different weather conditions.
Did we forget to cover anything you would like to know about vehicle wraps and graphics? Feel free to contact us and we are delighted to answer your questions. By Sign Partners