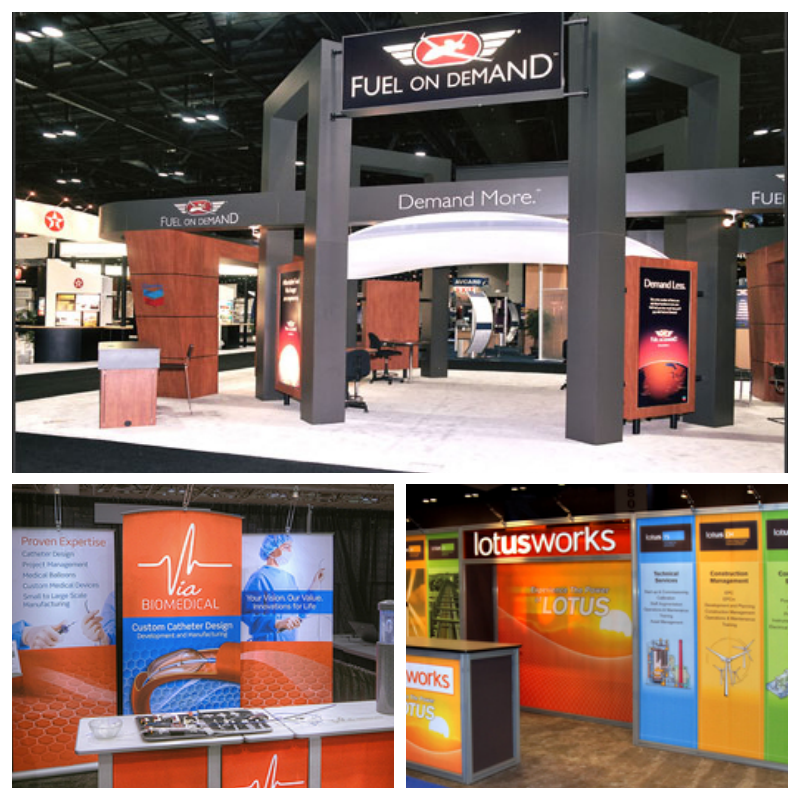 With all this modern technology and on-line sales and marketing opportunities, many of you are wondering why tradeshows? Face-to-face marketing is still the number one business-to-business marketing medium. Reasons being that face-to-face increases the Like and Trust from your customers. Additionally it's always better to actually touch, feel, smell and see the product, isn't it?
In order to make tradeshow marketing work it's crucial to follow the right steps.
- Choose the right tradeshow according to your audience.
- Make a great presence by choosing the right booth and design.
- Be original and stand out from all those other booths with the same products and goals.
- Be prepared with your expertise for all enquiries and have necessary business cards, flyers and brochures on hand.
- Do not forget to evaluate and follow up after the tradeshow to measure your results.
Let's learn more about choosing the right booth for you and your company.
1. Portable Displays
Portable Displays are great for individual exhibitors for small shows. They are lightweight, which makes it easy for travelling. Furthermore they are designed for easy and quick installation. Pop-up and back wall displays, banner stand displays, tabletop displays and flags are all examples of portable displays. A great advantage of these displays is that they are available for every budget.
2. Modular Inline Exhibits
These tradeshow boots are perfect for exhibitors requiring high-design and structure to show off your product or company image. Modular components are lightweight and compact, so transportation, drayage and storage costs can be significantly lower than traditional custom systems. On top of the mentioned benefits, modular systems offer structural support for heavier components like computers, flat screens, shelving etc.
3. Custom Island Exhibits
These exhibits are the Rolls Royce's of the tradeshow displays. They are custom made and require professional installation. If you require a meeting room, lounge, restaurant or test lounge on your booth, this can be custom build according to your design and requirements.
Prior to choosing what is the best tradeshow display for you make sure consider the following factors:
- Venue
- Size
- Logistics
- Budget
No matter how different your requirements are, because for each need there is a solution. Looking for more information? Do not hesitate to reach out to us and we look forward partnering with you.